Our Story
Who We Are
In a small town called Montgomery, Texas – that has a population of a little less than 1600 – there sits a house, deep in a cove off of Lake Conroe. In the garage of this house sits a short, hairless gentleman with round welding goggles on his eyes and a smile on his face. In his hand lies a torch being used to carefully cut a glass bottle into what will eventually become a smooth, functional drinking glass.
A Second Round began as a simple passion project. After a dinner consisting of homemade spaghetti and meatballs, and of course a bottle or two of red wine, Brent Stokes saw an empty glass bottle sitting in a recycling bin and wondered "What if I could make this into something else?" After many long hours of torching and scoring, Brent, with help from his wife Scarlett and children, Joseph and Morgan, finally took a long, well-deserved swig of iced tea from a glass cup fashioned from an old wine bottle and a little hard work.
At that moment, Brent and his family realized there might be something to this little hobby that he embarked on. Thus, A Second Round was born. Specializing in glass drinking wear derived from 100% recycled bottles, A Second Round now boasts upcycled cups in a variety of sizes and designs. From classic-plain sets, to custom business logos, to personal engravings, and more, A Second Round is a family-owned business that hand-makes products with their customers in mind. Don't just take our word for it though, check out our gallery and see what our little passion project started in Montgomery, Texas has to offer!
Our Mission
A Second Round's mission is very simple: produce a high-quality, upcycled drinking glass that is hand-made and customer-inspired. We believe the key to achieving this mission is by making each and every glass with three key principles in mind:
A quality drinking glass is a hand-made drinking glass. We're a family-owned, small business; that means that whether you're getting a small, clear glass with a monogram on it, or a set of large tumblers, you're going to get a product that is hand-made uniquely and excellently. We're also a company born and raised in Texas; therefore every glass that we produce is not only made with pride, but with the intention of impressing and pleasing anyone using our products.

We recycle used bottles to create quality, upcycled glass drink wear. From day one upcycling has been our bread and butter. We pride ourselves in knowing that every drinking glass held in the hands of our customers was once an empty glass bottle that was destined to either be in a landfill, or in the back of a recycling truck. Sustainability is the backbone of A Second Round, so we make sure that we're making the world a better place, one glass at a time.

Our products are customer inspired, and our company is customer focused. Be it our purpose-driven attention to detail, variety of available sizes and styles of drink wear, or personal customizability options, A Second Round exists to please our customers. We understand that you want a product that can't be found in a superstore or wholesale catalog; therefore we strive and love to make our products to your specifications.
Please contact me at scarlett@a2round.com if you have an inspiration! Take a look for yourself, and see why we take so much pride in doing what we do!
A Second Round Glass also helps you promote your business with one-of-a-kind logos. We custom brand the drinking glasses made from upcycled bottles helping you create awareness and increased success. We invite you to raise a glass and by you doing so, you help make the world last!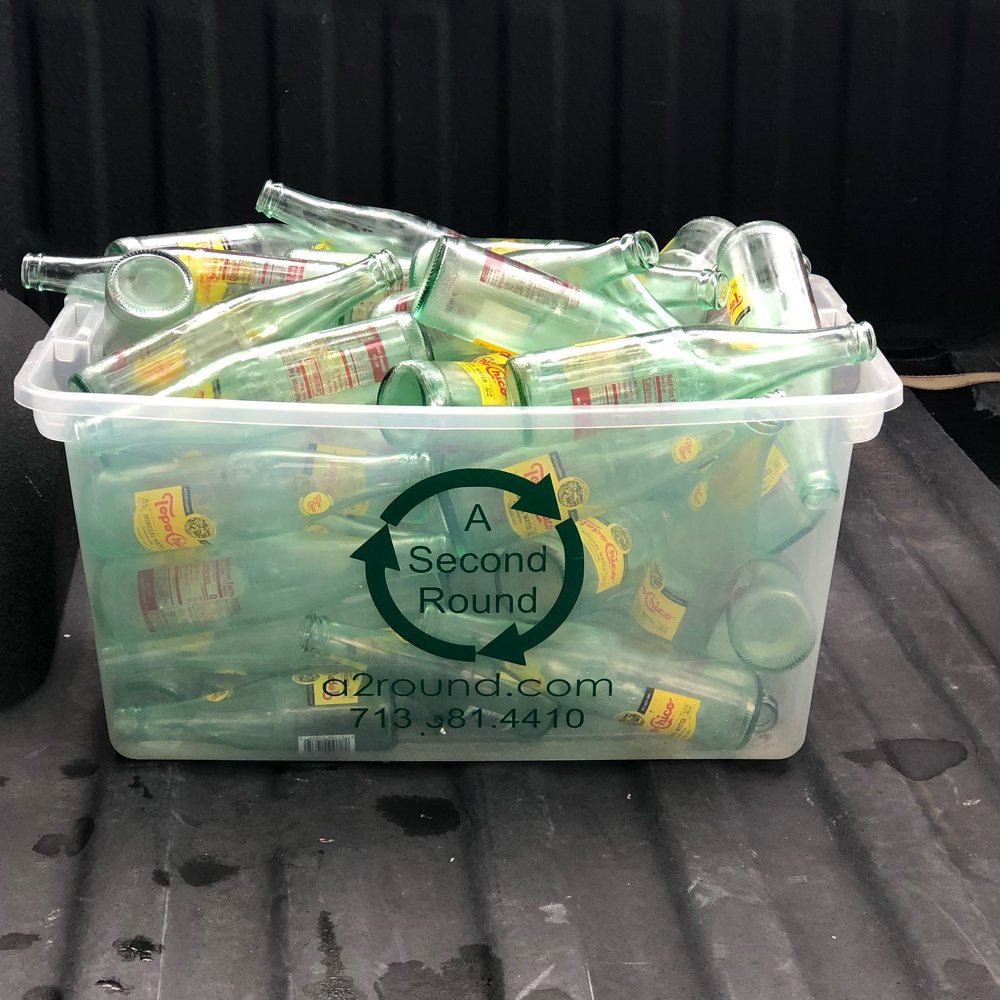 Bottle Birgade
Thank you to all of our neighbors for contributing thier bottles.
Bill and Selinda
John and Renee
Bob and Betsy
Beth and Mark
Carol and Barry
Stacie and Dave
Karen and Tony
Sue and James
Woodson's Local Tap